You can access this section by clicking Delete or replace file or folder, in the Home section.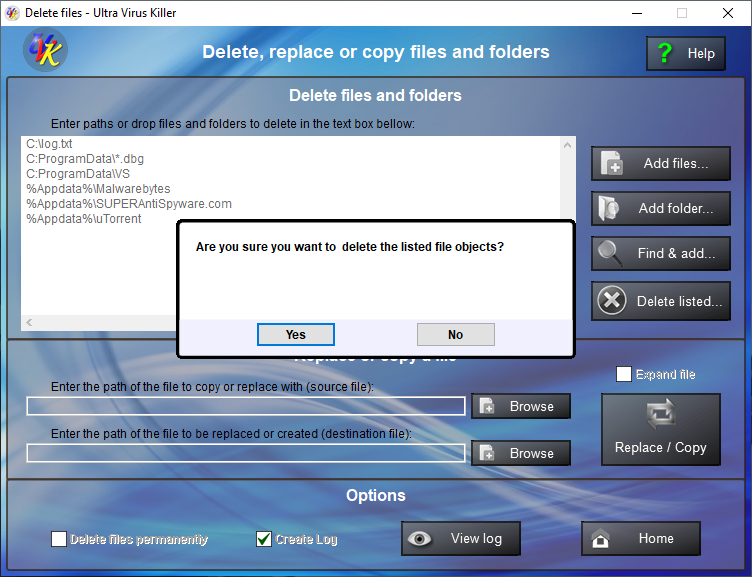 You can manually type the full path of the file or folder you wish to delete in the text box and press Enter to insert a new line.
You can use all UVK suported environment variables to simplify writing common paths.
UVK normally allows you to drag and drop files or folders from the Windows Explorer to the text box and their names are created automatically.
To add files to the list, click Add files... and browse to the folder that contains the files you want to delete.
You can select several files by holding the CTRL key down while clicking the files or using your mouse to create the selection. You can select only files, not folders. Click Open to add the selected files to the list.
To add a folder, click Add folder... and browse to the folder you want to delete, click to select it and click OK. The selected folder will be added to the list.
Break lines will be added automatically, too.
Check Dont recycle if you want the items to be definitely deleted instead of being sent to the recycle bin.
When the list is complete, click Delete listed. A progress bar will show you the deletion's progress.
UVK always checks files digital signatures before deleting them. For files digitally signed by Microsoft, a message box will show up like the picture below: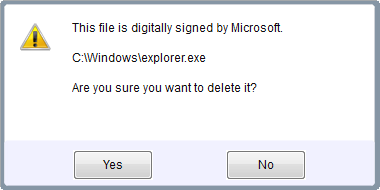 When you see this message, you should always click No, unless you know exactly what you're doing. We won't be responsible if you delete important system files.
If Dont recycle is not selected, the deleted files and folders are moved to the recycle bin, to allow its recovery in case of mistake. Those that can't be immediately deleted are scheduled for removal on next reboot.
If Create log is checked, a report of the deletions will be created, and you'll be able to see what's been deleted, ignored or scheduled to delete on reboot by clicking View log.
Replace or copy a file
In this section you can replace a file with another file. Since the file to be replaced doesn't have to exist, you can also use this feature to copy a file. The file will be replaced/copied with administrator privileges.
First you will have to enter the path or browse to the file that is going to replace the second file (the source file). Then you enter or browse to the path of the file to be replaced or created (the destination file).
If the file you want to copy is compressed, check Expand file, and UVK will decompress the destination file. This may be useful to copy files from the dllcache folder, on Windows xp, or other similar cases where the source files are compressed. Note that this only works for files compressed with ntfs compression, not zip compression.
Select the desired options on the lower pane. When ready, click Replace / Copy. A message box will tell you if the file was successfully replaced, or scheduled for replacement on reboot.
Lower pane options:

Don't recycle: If this option is not selected, the replaced/deleted items will be moved to the recycle bin. This will allow to recover them later, but reduces largely the chances of success of the operation.
If you want to replace system files like shell32.dll, kernel32.dll, csrss.exe or svchost.exe, you will never be able to do it without checking this option.
But if you do check this option, you will be able to replace these files even without rebooting the computer. However, the new files will only be loaded after rebooting, of course.
When selecting this option, a dialog box will be displayed like the picture below: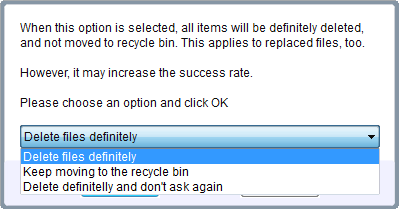 Choose the desired option, as shown in the picture and click OK. If you choose Delete definitely and don't ask again, this dialog will not be displayed again.

Create log: Leave this box checked if you want UVK to create a report of the replacement, where you'll be able to check if the file has been successfully replaced.

To return to the main menu, click Home or press Esc.